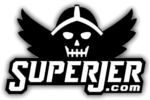 SuperJer Minecraft!
Our Server
| Server | Status | Type | Version | Connect to |
| --- | --- | --- | --- | --- |
| NeoCochise | Running | Current Version | 1.9.2 | mc.superjer.com |
To join the server, you must be on the whitelist. If you would like to get on the whitelist, please visit the forum and ask at the forum thread.
Overview
Take a look around the map, with our map of NeoCochise.
Backups
Keep a copy of your hard work by downloading a world backup.
Rules
This is a cooperative survival build server. You are expected to cooperate with other players, against the creepers and such, in order to build cool stuff.
PVP is disabled. No indirect PVP or griefing unless it is really funny. And then make up for it or fix it.
We will tear down your ugly crap if it's devaluing neighboring properties. But not right away.
Be respectful of others' builds. Leave them as good as you found them.
This is not a singleplayer server. Let's work together. Let's build things too close together and just see what happens!
Recent log from NeoCochise: